Bushwalking in Sydney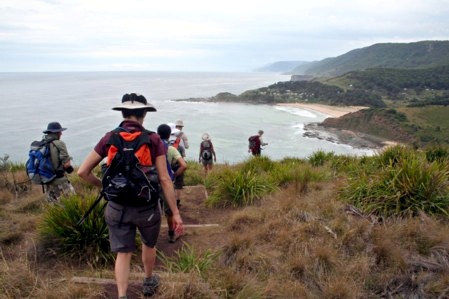 You'll enjoy bushwalking Sydney Australia with All Nations Bushwalkers. Bushwalking is commonly known as hiking, rambling, tramping, trekking or trailwalking in other countries.
Bushwalking in the Sydney area and beyond
Come and explore the Australian bush with All Nations Bushwalkers. Visit beautiful national parks and wilderness areas around Sydney and further afield, even interstate. We have a graded series of walks (day walks, weekend camping trips and longer), bike rides and water-based activities, and there's a social program too. Join us!
As a member, you'll receive a bushwalking and social program every 3 months. Come along!
Most of our activities involve bushwalking in the national parks within 100km of Sydney, including the Blue Mountains, Ku-ring-gai Chase, Royal, Wollemi, Bouddi, Brisbane Waters, Dharug, Marramarra and Sydney Harbour national parks, or the parks and reserves of the NSW Southern Highlands and Illawarra regions. In Sydney, we're lucky to have these great places close by. Why not enjoy them!
We have walks which suit a wide range of fitness and experience levels. Most are day walks, ranging from quite easy to rather hard. There are weekend overnight camping trips, and longer extended expeditions have included destinations all over Australia - bushwalking by day, enjoying the companionship of the campfire at night. Great fun!
To go bushwalking for a day, you need appropriate footwear (eg walking boots or joggers with good grip), a rain jacket and a small backpack to carry lunch and water. Information on what to bring.
You can also go on social activities, including restaurant nights, cinema and art gallery visits, Christmas parties and various special outings.
Getting to an activity is easy. We generally meet at a train station and then car pool to the walking track. You won't get lost and don't need your own transport!
Our members are men and women of all ages and nationalities.
Family friendly walks are available, and highlighted as such on our program. These walks are suited to children of varying ages in order to increase their ability and confidence in the bush. See the individual walk description for specific details.
Membership is only $30 per year over 3 years ($90 total), $35 per year for 2 years ($70 total), or $45 for one year, plus $15 per year for each additional family member (if they join the club). This pays for insurance, the newsletter, etc. Unlike some other clubs, you do not have to pay the club a fee each time you go on an activity (but you do pay for transport). Members are welcome to attend club meetings (listed on the programme).
To join us, fill in a membership form, and send it to us with the membership fee.
Or give it a try first. Simply choose a bushwalk on the program and give the organiser a ring. Say you are thinking of joining the club. He or she will describe the activity so you and the walk leader can see if it is suitable for you. Visitors can try one walk for free before they're expected to join the club.
If you've got questions, please contact us.